Embracing an aging population
Every day the number of Albertans who reach the age of 65 grows by 73
Alberta's population, like the rest of Canada's, is aging. As of July 2017, there were about 550,000 seniors in Alberta. By 2031 the last of the baby boomers will reach 65 years of age, it is projected that there will be more than 928,000 seniors. By 2035, it is estimated there will be more than one million seniors in Alberta - meaning about one in five Albertans will be a senior.
An aging population will have profound and lasting economic and social implications for our province, leading to opportunities and challenges across a wide range of areas. Responding to these opportunities and challenges will require the involvement of a variety of partners in areas such as finance, transportation, housing, health, infrastructure, municipal affairs, community services, public safety and others. It will require action on the part of governments, the private and non-profit sectors, communities, families and individuals.
---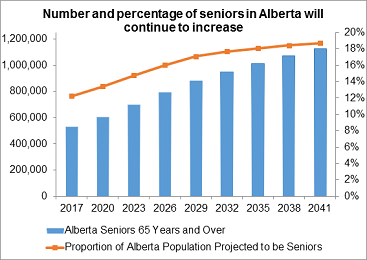 Alberta Population Projections, 2017-2041 (Medium Scenario). Source: Treasury Board and Finance, Office of Statistics and Information - Demography and Social Statistics, 2017
Background - Aging Population Policy Framework
In 2008, the Demographic Planning Commission was established by the Government of Alberta to provide analysis and proposals to prepare for an aging population. The commission's findings were used in the development of an Aging Population Policy Framework. This framework provides a holistic approach to meeting the needs of Alberta's current and future seniors in effective and sustainable ways. Strategic directions and goals support consistent and co-ordinated government decision-making in eight key areas including financial security and income, supportive communities, and transportation and mobility.
The framework's strategic directions and goals complement existing Alberta government directions and strategies such as the Continuing Care Strategy, Vision 2020, Building and Educating Tomorrow's Workforce, and the Strategy for the Prevention of Family Violence and Bullying.
Background - Demographic Planning Commission
To help the Government of Alberta in planning and preparing an aging population, the Demographic Planning Commission was established in May 2008.
The Commission sought the input of individual Albertans and stakeholder organizations about the needs of future seniors and the roles of individuals, families, communities and government in meeting these needs. Over 10,000 Albertans of all ages completed an online survey, and the Commission met with over 100 stakeholder organizations across the province. The results of the commission's work were summarized in a Findings Report, which was released in December 2008.
This information was used in the development of the Aging Population Policy Framework which will be used to guide future government policy decisions on programming and supports for future seniors.