Minister's Seniors Service Awards
Since 1998, the Minister's Seniors Service Awards have recognized outstanding Albertans of any age who volunteer their time to make a difference in the lives of seniors and their community.
This year, 84 nominations were received in three categories: individual, organization and the Alice Modin Award. Click here for a list of nominees and a summary of their volunteer activities.
The individual category recognizes Albertans of any age who provide volunteer services that support seniors. The organization category recognizes Alberta not-for-profit organizations that rely on volunteers to support seniors.
The Alice Modin Award, introduced in 2017, recognizes an individual or couple who is 65 years of age or older and has been volunteering in their community for 20 or more years, actively promotes volunteerism amongst seniors or in support of seniors, and/or has had a provincial impact for seniors through their volunteer efforts.
All nominees will be recognized at community celebrations to be held across Alberta during the summer. The minister will select up to eight award recipients to be honoured at a special ceremony in the fall of 2017.
2016 Minister's Seniors Service Awards
In 2016, Alberta Seniors and Housing received 63 nominations: 50 individuals and 13 organizations. All nominees were recognized at Community Celebrations held in Calgary, Edmonton, Lethbridge, Red Deer and Whitecourt during Seniors' Week, June 6-12.
Each fall, award recipients are recognized at a ceremony and dinner at Government House. Seniors and Housing Minister Lori Sigurdson has selected the individuals and organizations that will be honoured this year based on the recommendations of a review panel comprised of ministry staff and chaired by Edmonton-Whitemud MLA Dr. Bob Turner. Congratulations to this year's award recipients!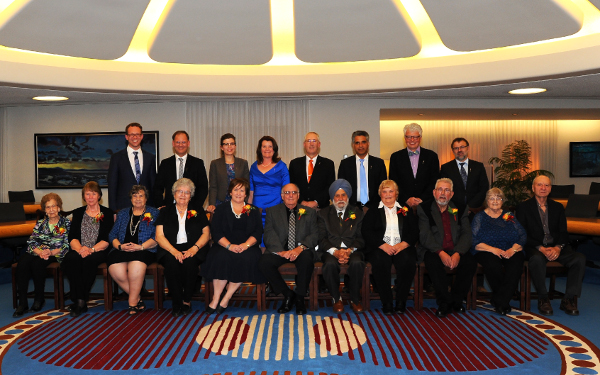 Photos of the 2016 Minister's Seniors Service Awards Recipients
Photos from the 2016 Community Celebrations
Photos of the 2015 Minister's Seniors Service Awards Recipients
Questions or comments to seniorsinformation@gov.ab.ca