Minister's Seniors Service Awards
The Minister's Seniors Service Awards recognize outstanding Albertans who volunteer their time to make a difference in the lives of seniors and communities.
There are three award categories:
Individual
Organization
Alice Modin Award
Nominate Someone Today - Nomination Deadline Extended to April 30!
Seniors and Housing is pleased to be accepting nominations for the 2018 Minister's Seniors Service Awards. Print and submit a nomination package. The nomination deadline is April 30, 2018.
Promote the awards by displaying the poster.
Nominees will be recognized at community celebrations to be held across Alberta during the summer. The Minister will select up to eight award recipients to be honoured at a special ceremony in the fall of 2018.
Questions?
Email your questions to seniorsinformation@gov.ab.ca
2017 Minister's Seniors Service Awards
In 2017, Alberta Seniors and Housing received 84 nominations: 48 individuals, 12 organizations, and 24 for the Alice Modin Award. All nominees were recognized at community celebrations held in Athabasca, Calgary, Edmonton, Grimshaw, Medicine Hat and Red Deer, in August. Click here for a list of nominees and a summary of their volunteer activities.
Award recipients were recognized at a special ceremony on October 2 at McDougall Centre in Calgary. Congratulations to last year's award recipients!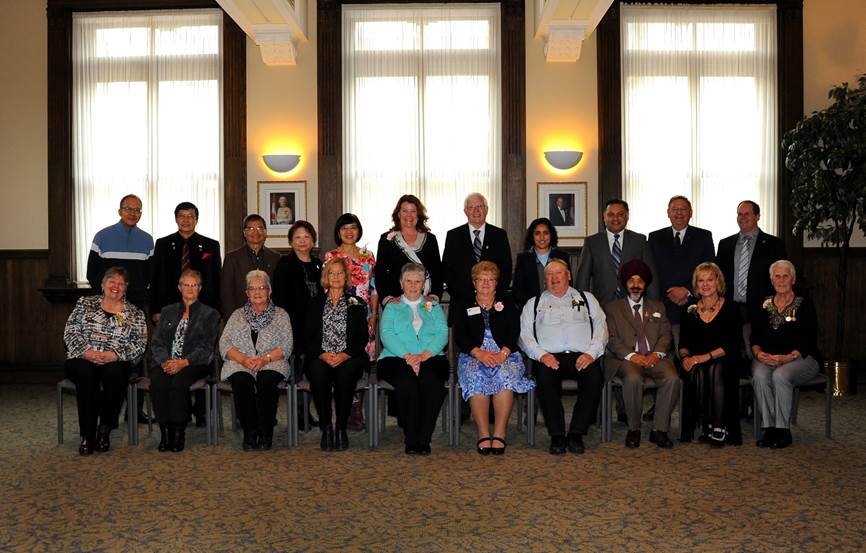 Photos of the 2017 Minister's Seniors Service Awards Recipients
Photos from the 2017 Community Celebrations
Questions or comments to seniorsinformation@gov.ab.ca